Conductors and Accompanist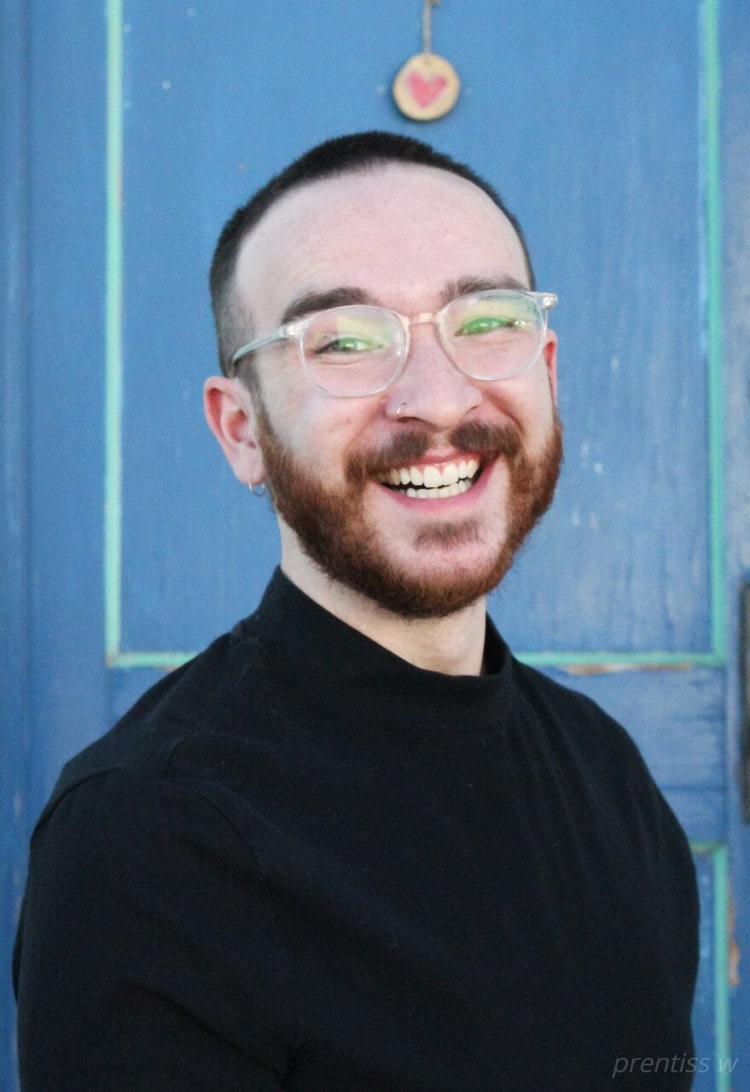 Nicky Manlove
Conductor
Nicky Manlove (they/them pronouns) is the founding artistic director of THEM Youth Ensemble, an LGBTQ+ and allied youth chorus, is the director of music at St. Mark's Presbyterian Church, and is an accompanist and associate conductor at Tucson Girls Chorus, where they accompany 5 choirs from grades k-12 and conduct the Estrella singers at Title I schools in Tucson. In their work with THEM Youth Ensemble, Nicky has organized THEMposium, an annual performing arts festival for LGBTQ+ youth, and co-produced two national collaborative virtual concert events in observance of Trans Day of Resilience in 2020 and 2021 titled "ROSES: The Past, Present, and Future of Trans Resilience," and "Sacred Resilience". Under their leadership, THEM Youth Ensemble has received recognition and awards from the University of Arizona Institute for LGBT Studies and the Community Foundation for Southern Arizona LGBTQ+ Alliance Fund.
Nicky is a committed advocate of equity-centered and liberatory choral practice, and supports a number of justice-focused choral initiatives nationally. They are on the leadership team of The Choral Commons, a media platform that provides a space for singing communities to realize the liberatory potential of the ensemble as a site of radical imagining. As a part of The Choral Commons' second season, Nicky co-produced the series "engender: singing and the wisdom of gender diversity," and appeared as a guest with the series "surge: cultural strategy, organizing, and activism for choirs." Nicky has served on the ACDA National Diversity Initiative Committee's Task Force for Transgender Justice, and serves on DEI committees for AzACDA (chair), ACDA Western Region, and the Presbyterian Association of Musicians.
Nicky holds a Bachelor of Arts in Interdisciplinary Arts with an emphasis in Music from Seattle University, and a Master of Music in Choral Conducting from the University of Arizona, where they studied with Alyssa Cossey and Elizabeth Schauer.
Fabián Rodríguez Castro
Graduate Assistant Conductor
Fabián Rodríguez Castro (they/he) is a multidisciplinary artist with advanced study in conducting and vocology and work as a vocalist, instrumentalist, and artistic & creative consultant. From a variety of different projects and organizations, Mr. Rodríguez Castro is known for his ability to work with individuals and groups of all ages and diverse backgrounds.
Fabián Rodríguez Castro holds degrees from Syracuse University and Azusa Pacific University. He has studied and been influenced by notable mentors: Dr. John Sutton, Dr. Harold Clousing, and Professor Michelle Jensen.
As a vocalist and instrumentalist, Mr. Rodríguez Castro has had the opportunity to perform at a number of different venues all over the world. His performance career has taken him throughout the United States and abroad in concert tours and recording projects, including performances at Walt Disney Concert Hall, Radio City Music Hall, and Jazz at Lincoln Center. His performance tours have taken him across the United States and around the world, performing throughout Europe and Asia.
Fabián has recently finished his Master's in Music in Conducting at Azusa Pacific University where he has performed with various ensembles in a variety of genres including the Choral Scholars, University Choir, Symphony Orchestra, Gospel Choir, Masterwork's Chorale, Jazz Band, and the Chamber Singers who most recently went on a concert tour of Hong Kong and China in 2019. He is very excited to start his DMA program with Dr. Elizabeth Schauer and all the opportunities yet to come.
Fabián Rodríguez Castro continues to work with various organizations and institutions as an artistic & creative consultant in the fields of audio engineering & production, visual graphics & web design, and music education.
Ina Selvelieva
Accompanist
Bulgarian pianist Ina Selvelieva has performed as soloist with many orchestras and has appeared in numerous solo and chamber performances in her native country, as well as in Austria, Germany, UK, Italy, Romania, Serbia, Colombia, and the United States. She has won numerous competitions both in Bulgaria and the United States, including the University of Wisconsin-Madison Symphony Orchestra Concerto Competition, and the UW-Madison Beethoven piano competition. Her awards include the Pancho Vladigerov Competition in Bulgaria, the Grand Prix at the International Competition "Earth and People" in Bulgaria, and the Artist Presentation Society Award in St. Louis, Missouri, among others.
Under the guidance of Christopher Taylor, Ina Selvelieva earned the Doctor of Musical Arts degree in piano performance at UW-Madison in 2007. Since then she has served on the faculty at St. Olaf College, UW-Madison, and Southern Illinois University Carbondale. She has presented master classes throughout the world, including Universidad de Antioquia, Medellin, Colombia; Universidad Nacional de Colombia – Conservatorio de Musica, Bogota; Xavier University of Louisiana, San Antonio College, and Stephen F. Austin State University, TX.
Her work as a collaborative pianist has taken her to festivals and summer camps, such as the Aspen Music Festival, American Institute of Musical Studies in Graz, Austria, and Interlochen Arts Camp. As a rehearsal pianist, Ina has held the Sir John Fisher Foundation Junior Fellow – Repetiteur position at the Royal Northern College of Music in Manchester, UK. In 2015 she made her debut with the Scottish Opera as the Music Director and Pianist of the "Opera Highlights" Tour, and as a rehearsal pianist for the premiere of the opera "Pleasure" by Mark Simpsons with Opera Leads, UK. She has also worked as a Solo Repetiteur at the Wuppertal Opera in Germany. In addition, she enjoys working as an Assistant Director of the Allegra Academy and Festival in Bulgaria.